Open FLAC File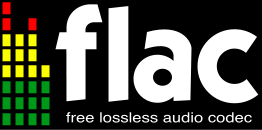 FLAC file extension is used by Free Loseless Audio Codec files. This codec was developed by Xiph.org foundation. FLAC files contain CD-quality audio that is compressed on average 46% without any loss of quality. These files can be uncompressed onto CD disks and the copy will be identical.
FLAC files support storing multimedia metadata such as track title, artist, album, cover art etc. FLAC files also support fast seeking to random position which makes jumps, fast-forwarding and rewinding possible. FLAC compression is based on linear prediction, Golomb-Rice coding and run-length encoding.
You can open FLAC file by many players on Windows platform including but not limited to: KMPlayer, GoldWave, Media Center version 12.0.3xx or greater, MediaMonkey, Winamp, JetAudio, foobar2000 etc.